Bulletin Board
We are pleased and blessed to announce Pastor Mark Ball as our new Senior Pastor! Mark along with Wendy and son Jon are a loving and caring family and are ready to see the Lord work through them, as well as Walker Road for years to come!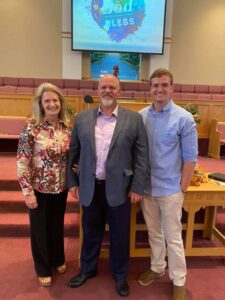 If you are looking for a church home, we welcome you to join our family here. We believe you will find us to be a loving, caring and friendly congregation. Here at Walker Road Baptist Church we believe you are special and very important. Most of all, Jesus knows that you are. That's why He died on the cross and rose from the dead for you and the whole world. As John 3:16 ESV states; "For God so loved the world, that He gave his only Son, that whoever believes in Him should not perish but have eternal life."
==========================================================================
Church Service
Come join us as we worship our Lord and Savior, Jesus Christ during our regular morning worship hour on Sundays,
at 11:00 am here at Walker Road Baptist Church.
There will be no Sunday School until further notice. We will be having our regular Sunday night service at 6:00 pm. Unfortunately, t
here will be no nursery service available and there will be no children's church as well. Sorry
!
It will be helpful if you will assist us observing the following guidelines:
No shaking hands – use appropriate social distancing.

Note pews with blue tape are to be left vacant; while families can sit together there should be appropriate spacing on either side of each family unit.

Please have your tithes and offering ready and give them to the ushers on the way into the auditorium. (we will not be passing the offering plates). We will also have an usher at the doors at the end of the morning service if you were not able to give when you came in.

Our meet and greet time will be suspended – we will wave from a distance!

Please do not handle hymnals or pew bibles. (music lyrics and scripture verses will be on the screen).

Regular Wednesday Night Bible Study will be held in the fellowship hall.

Please, as much as It is possible, we ask that you walk single file in the hallways; again in an effort to practice "social distancing".
We apologize for these inconveniences, but, we are trying to comply and we certainly do not want to do anything to endanger the health of any of you. While this seems somewhat restrictive, just think about It … at least we can gather with some MORE of God's people and worship together in this place! If you need help in any way please do not hesitate to ask an usher or one of our deacons tor assistance.
Undoubtedly we will have a number of our senior adults, especially those with a tendency to have upper respiratory issues that will not be comfortable gathering quite yet. Please
know that while we do not have the capabilities to live stream our Sunday Morning Services and Wednesday Night Bible Study, you will still be able to watch them on Facebook and this website at a later time. For those of you who are receiving CDs or DVDs they too will continue to be made available, just let your family deacon know that you wish to continue receiving them.
Church Video Services
Even though we are now reopening the church building for services, the Sunday Morning Worship Hour will still be available to all online on our Facebook page and this website.
Click Here
to watch the recording on Facebook or click here
Our Media/Sermon to go to our website page where you will find a direct link to each and every sermon that has been recorded.
Note: When you touch or click on the "Click Here" link above, you will be taken to our Facebook page. When you get to the Facebook page, scroll down until you see the video. You do not have to log into Facebook nor do you need an account with Facebook to watch the video. If you get a Log In screen box on Facebook, look at the bottom of the box you will see a "Not Now" button, just touch or click on that button and the Log In box will go away. You can also click on the "Our Media" page on this website to either go to our FaceBook page or to view previously recorded messages by Pastor Mark.
If you do not have the ability to watch the video via FaceBook or this website, and you do have a DVD player, please let one of the Deacons know and they will make sure you get a copy of the messages on a DVD. You can also contact us via our "Contact Us" page.
Tithing and Offerings
If you wish to give your tithes and offerings electronically, you can click on the "Give" link here or below. You can also mail your check directly to the church.

Samaritan's Purse, Operation Christmas Child Shoebox Collection
We will be kicking off our Samaritan's Purse Operation Christmas Child Shoebox collection beginning February 7, 2021 and throughout the year. All clothing items should be for children in the age group of 2-14 years old and for either girls and/or boys. We will be packing the shoe boxes sometime in November and delivering them to a Operation Christmas Child processing center.
This months collection items are as follows; Combs, hairbrushes, hair Bows, hair clips, nail clippers, nail files, hats, gloves, toothbrushes (individually wrapped). We also still continue to need: Wash cloths, wrapped bar soap, individually wrapped toothbrushes, stick deodorant, adhesive bandages, tissues, hats, gloves and shipping donations ($9.00 per box). Place your items in the boxes provided in the narthex.
What is Operation Christmas Child? Operation Christmas Child is a project of Samaritan's Purse, who is an international relief organization. The mission of Operation Christmas Child is to provide local partners around the world with shoeboxes filled with small toys, hygiene items and school supplies as a means of reaching out to children in their own communities with the Good News of Jesus Christ. They ship these simple gifts outside the United States to children affected by war, poverty, natural disaster, famine, and disease; and to children living on Native American Reservations in the U.S.
Why Shoebox gifts? Shoebox gifts are a way to demonstrate God's love in a tangible way to needy children around the world, and together with the local church worldwide to share the Good News of Jesus Christ.
We as a church body wishing to spread the Gospel of Christ throughout the world have partnered with Samaritan's Purse as other churches have, collecting items for the children in accordance with the recommendations of Samaritan's Purse Organization. Each month we will be posting a new set of items that we will be collecting for the children in preparation of packing the shoeboxes and delivering them to a Operation Christmas Child processing center who will then send them to the children throughout the world.
For more information on Operation Christmas Child and other relief activities that Samaritan's Purse does, you can go to their website by either clicking on one of the following links or typing them in your web browser; "samaritanspurse.org"
or samaritanspruse.org/occ".
For further information go to our Events page

100 Walker Road • Morganton, NC • 28655 • (828) 438-1080